Short Stories
If you're looking for a quicker read, these short stories may tickle your fancy. Each story is 18+ and feature queer men of color. They are only available electronically for the time being.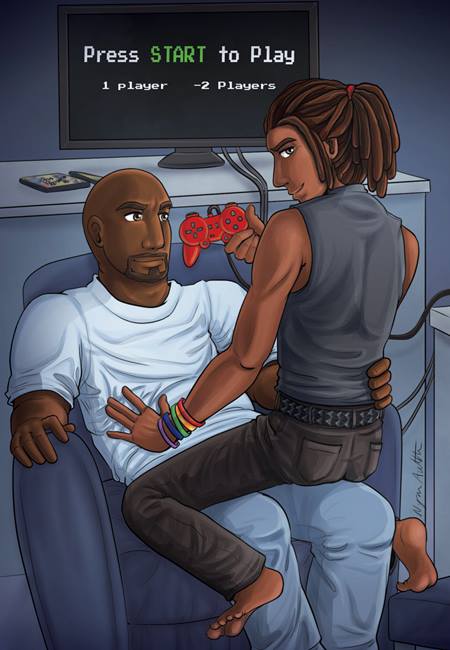 Press START to Play was originally featured in the Dreamspinner Press Make a Play Daily Dose package. The story can be purchased separate from the anthology. Many thanks to Ann Uland of Arbitrary Muse Comics for her beautiful art piece of the two main characters, Lukis and Aaron.
Lukis Singleton's once-popular sports column is fading fast, thanks to the terrible track record of the local football team. In an attempt to save the column, Lukis's editor, John, decides he needs to go in a different direction. Video games are all the rage these days, so John insists that sending Lukis to a huge video-game tournament in Los Angeles will shake up his current readers and bring in new ones. Lukis isn't thrilled about reporting on games with impossible powers or gamers who still live in Mom's basement, but then he meets a tempting flaw in the gaming stereotypes of unwashed man-children. Aaron Sanders is a gorgeous breath of fresh air at the tournament who takes Lukis's less-than-stellar view of gamers and turns it on its head, leaving Lukis to wonder if it might be worth being Aaron's player two.
Purchase Links for Press START to Play:
Amazon | Barnes and Noble | Dreamspinner Press | Kobo | All Romance
Keeping the Cookies was published by Dreamspinner just in time for the holidays. This 18+ gay romance tale centers on Ty as he prepares for the holiday season… by kicking out his cheating boyfriend and consoling himself with chocolate and cold Chinese food. Unfortunately, rent and bills force him to grab a pair of red-and-white tights and pretend to be in the holiday spirit as a mall elf. Thankfully, there's a janitor who's too handsome for the part of a mop pusher to help distract him.
Nikolas the Janitor sweeps Ty off his feet with his smile and generous spirit. Ty wishes he could fall in love as easily as a romantic comedy, but his ex still holds a piece of his heart. Ty wants to accept Nikolas as his new secret Santa, but he might be doomed to pine after his ex all Christmas long.
Purchase Links for Keeping the Cookies:
Amazon | Barnes and Noble | Dreamspinner Press | Kobo | All Romance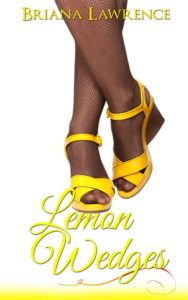 Lemon Wedges is part of a planned series called Devious Pies. The series aims to be quick, erotic reads to get you in the mood — so it's definitely 18+. There's some fetishes that we're allowed to wear out in the open. Others, we have to keep tucked away in our closets. Unbeknownst to the people around him, Kaeden is walking that fine line in stylish heels. But with the release of a new brand, "Lemon Wedges," Kaeden is finding it hard to keep his desires behind closed doors, especially when his sexy roommate, Stephen, gets a taste of his fashionable little secret.
Purchase Link for Lemon Wedges:
---
***If you're a reviewer and are interested in reviewing any of my work, please contact me at brichibi@yahoo.com or brichibi@gmail.com***