---
2020
---
Wonder Duo: Rising Anthology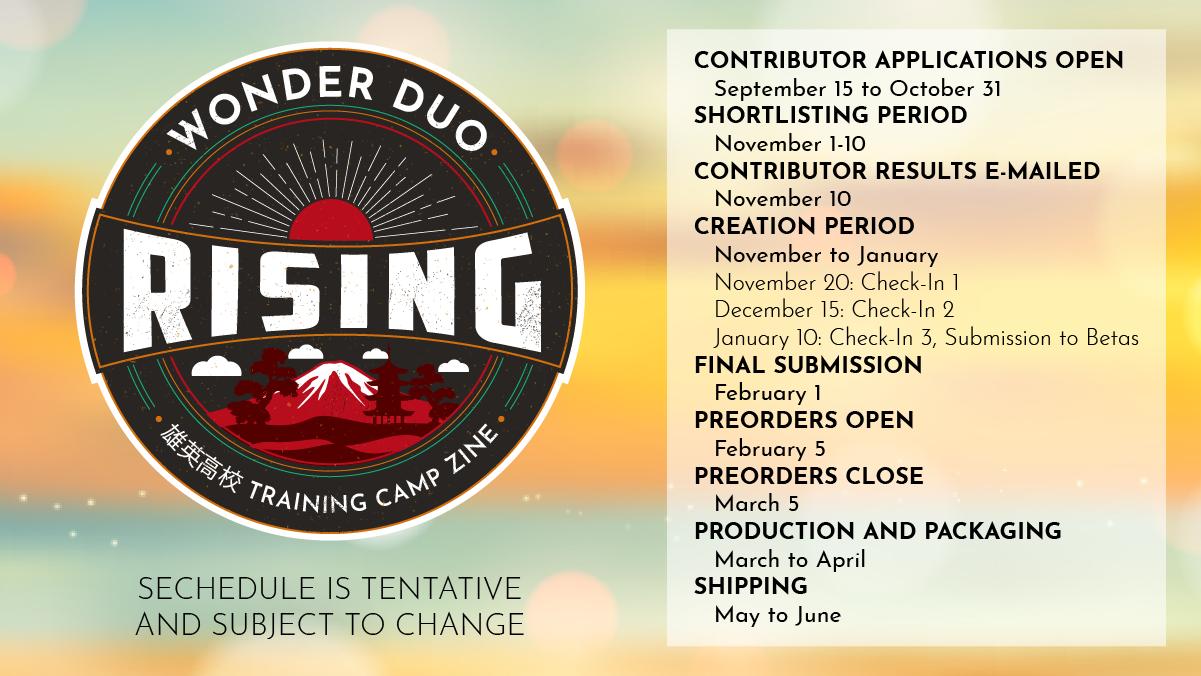 I will be contributing to a fandom zine that centers on the relationship between Izuku Midoriya and Katsuki Bakugou from My Hero Academia!
---
FUTURE RELEASES (date unknown)
---
Treat Me Kindly RE-RELEASE
"I only ask that you treat me kindly, then I will do the same for you."
This is my very first published book! Originally published by Damnation Books (Caliburn Press), Treat Me Kindly is an 18+ supernatural murder mystery full of wondrous creatures who are auctioned off to the highest bidder and ready to be the perfect house pets… with a few stipulations. Despite the warnings, the words of the invitation are enticing and speak of rare, exotic animals unlike anything you've ever seen.
To detective Alex Sampson, however, that invitation speaks of something else. Death.
Attendees at this prestigious animal auction are turning up dead, each murder more brutal than the last. The only clue to each crime points to a different animal, but when did birds and butterflies go from being aphrodisiacs for fairy tales to deadly mass murderers?
Double Hue RE-RELEASE
Maybe he's right. Maybe I am the cause of this. Maybe you were normal before meeting me.
My second published book is an 18+ murder mystery that centers on a young, college-aged couple dealing with coming out to their parents. Originally published by Eternal Press (Caliburn Press), Gable's parents don't know about his relationship with his boyfriend, Avery, while Avery has taken the plunge with dismal results. Before Gable can even consider his next step… tragedy strikes.
When something tragic happens, you want nothing more than to close your eyes and make all of the pain go away. For Gable Peterson… it's a little more complicated than that. When detective Maurice Ashford shows up at his door with news that his boyfriend has been found dead, Gable is left devastated. Seeking some sort of comfort, Gable closes his eyes and imagines a world where none of this happened.
And when Gable wakes up, he's surprised to see that Avery is still alive.
The Hunters Series: Book Three – the continuation of my urban fantasy series with my wife, Jessica Walsh.
RE-RELEASED gay romance short stories (18+) – originally part of various Dreamspinner Press anthologies, I'm looking into re-releasing these titles, either as short stories, or as an anthology collection.
The three stories include:
Press START to Play: Originally part of the Make A Play daily dose, Lukis Singleton's once-popular sports column is fading fast, thanks to the terrible track record of the local football team. In an attempt to save the column, Lukis's editor, John, decides he needs to go in a different direction. Video games are all the rage these days, so John insists that sending Lukis to a huge video-game tournament in Los Angeles will shake up his current readers and bring in new ones. Lukis isn't thrilled about reporting on games with impossible powers or gamers who still live in Mom's basement, but then he meets a tempting flaw in the gaming stereotypes of unwashed man-children. Aaron Sanders is a gorgeous breath of fresh air at the tournament who takes Lukis's less-than-stellar view of gamers and turns it on its head, leaving Lukis to wonder if it might be worth being Aaron's player two.
Keeping The Cookies: Ty is preparing for the holiday season… by kicking out his cheating boyfriend and consoling himself with chocolate and cold Chinese food. Unfortunately, rent and bills force him to grab a pair of red-and-white tights and pretend to be in the holiday spirit as a mall elf. Thankfully, there's a janitor who's too handsome for the part of a mop pusher to help distract him. Nikolas the Janitor sweeps Ty off his feet with his smile and generous spirit. Ty wishes he could fall in love as easily as a romantic comedy, but his ex still holds a piece of his heart. Ty wants to accept Nikolas as his new secret Santa, but he might be doomed to pine after his ex all Christmas long.
Voyeur-something: Originally part of the Juicy Bits anthology, Riley Denison is an average guy with an average guy life of working, watching T.V., and wearing snazzy video game themed boxer shorts. One day, he hears a moving truck pulling in next door and discovers that he's getting a new neighbor.  A tall, muscular, handsome neighbor.  Before he can come up with an excuse to go and introduce himself, he discovers that the new neighbor already has a boyfriend. This would upset Riley… if the neighbors weren't so enticing to watch together.