Every great team is comprised of great people, and magnifiqueNOIR is no exception. This group of ladies each have their own abilities, back stories, and a strong-willed motto they live by. They work together to protect others, protect each other, and bring out the best in one another.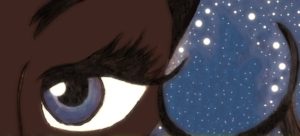 Galactic Purple: Don't Let Anyone Tell You that You're Not Magical
Marianna Jacobs is an 18-year-old college student with dreams of being a baker. She often does things by the book and could be considered as the leader of the group. She's kindhearted and always wants to do what's best for everyone, which can, occasionally, lead to her stressing out or raising her voice when someone (normally Bree) messes up her perfect flow. As Marianna progresses as a magical girl, she's becoming more confident in herself and her ability to lead the team.
Transformation Tool: Bracelet
Attack One: Cupcake Bomb
Exactly as it sounds, the "Cupcake Bomb" occurs when Galactic Purple gathers energy in her hand. The energy billows together in the shape of a cupcake, and when she launches it at her enemies, it acts as a bomb. She can launch multiple bombs at a time.
Attack Two: Toxic Flour
Galactic Purple's second attack is more tactical, as she can release it from a far distance. A mist of flour surrounds her enemies, not only making it hard for them to see anything around them, but standing in the flour for too long makes it hard to breathe. Too much exposure can be deadly.
Attack Three: Sprinkle Sensation 
Unlike the other girls, Galactic Purple has three attacks instead of two. This last attack is her most colorful, and painful, as sprinkles rain down on her opponents. The sprinkles, however, are sharp like needles, so it feels like being stabbed repeatedly.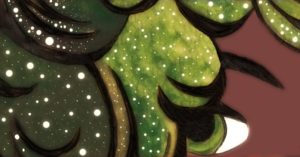 Cosmic Green: I'll Show You how Magical I Am
18 year old Bree Danvers is a huge gaming geek who is always the first in line at midnight launches, which means she gets really pissed off if she can't pick up a new title because some monster is attacking the city. She has a Youtube channel (Cosmickaze Bree) where she plays video games and talks about being a magical girl, complete with details of her battles and how much she kicks ass. This worries Marianna, but no one watching the channel believes Bree, anyway. They just think she's obsessed with magical girls. Still, if you get on her bad side, she'll tell you to your face just how magical she is.
Transformation Tool: Hair Bow
Attack One: 8-Bits and Pieces
There are two versions to this attack. The M-rated version has her blasting green, painful bits directly into her enemies chest. If the enemy is weakened enough, those bits rip right through them. The tamer version has her shooting the bits from a distance, the tiny cubes hitting her opponents like a frantic combo of punches.
Attack Two: Green.exe
Who doesn't love a good creepy pasta? We've all heard the story of the gamer who gets the weird version of a popular game that proceeds to terrify them. When this attack connects with her opponent, the opponent begins to see a distorted version of Cosmic Green that looks like something out of your worst nightmares. The haunting image leaves a permanent stain in her adversary's memories.
Radical Rainbow: Stand and Fight to be Magical
20 year old Lonnie Knox is a kickboxer who isn't one to back down from a fight and always tries her best to protect those closest to her. Out of all of the girls, she's the one most likely to be able to handle herself even without the use of her powers. Due to her athleticism, she's a bit on the muscular side, something that she sometimes gets criticized for since some people feel that she's "too much like a man." She tries her best to ignore the comments and feels that revealing her insecurities is a sign of weakness, but as she gets closer to the girls she realizes that it's o.k. for her to falter, as long as she stands back up again.
Transformation Tool: Anklet
Attack One: Rainbow Rush
Radical Rainbow's signature move is a flurry of kicks that deliver a heavy amount of damage to her enemies. It's a rush of motion, and it's hard to keep track of her movements, which is exactly how she wants the match to go down. If the attack doesn't kill you, you'll wish that it did.
Attack Two: Color Splash High Kick
While the first attack is a series of kicks, this second attack aims to finish the round in one hit. Radical Rainbow focuses her power into one devastating blow. If the kick connects, it's backed by a beautiful force of rainbow colors — assuming you're still conscious to see them. If, by chance, you are, then the colors hit just as hard as the kick… maybe even harder.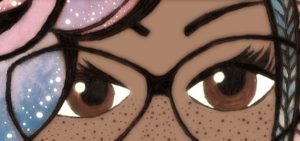 Prism Pink: I'm Just as Magical as Everyone Else
Not much is known about Prism Pink, but she has a habit of showing up when battles get too tough for the other magical girls. Whether it's assisting in a fight, or offering advice, she's an important part of the team… even if she doesn't stick around long enough for the girls to find out who she is. Lonnie is determined to find out more about her, and as the story progresses, this pink enchantress may be growing fond of the rainbow warrior. Prism Pink is as strong as she is elegant, and is out to prove that she, and others like her, are just as valuable as every other girl.
Transformation Tool: Choker
Attack One: Sewn Together Symmetry 
While the girls know nothing about Prism Pink, they at least know that she has some kind of connection to sewing. This first attack has Prism Pink strumming her fingers through the air as if she's playing a soothing medley. Too distracted by her beauty and grace, her opponents realize too late that she's actually weaving together strings. In an instant, the strings rush out to tie her enemies down, leaving them vulnerable to any oncoming attacks. If they try to move, the strings dig into their skin.
Attack Two: Glittered Together Harmony
Instead of using her strings to try and pin someone down, Prism Pink upgrades to using wisps of fabric. She moves the light blue, pink, and white cloth around her opponent, trapping them inside a cage of sorts. While trapped, her opponent realizes that the fabric sparkles, and soon, the sparkles flake off and scatter all around. These bits of glitter stick to their skin and is damn near impossible to get off. To make matters worse, they burn, and they hurt, and it's a slow, torturous sensation that leaves Prism Pink's target wishing for a swift demise.