"The revolution will be magical."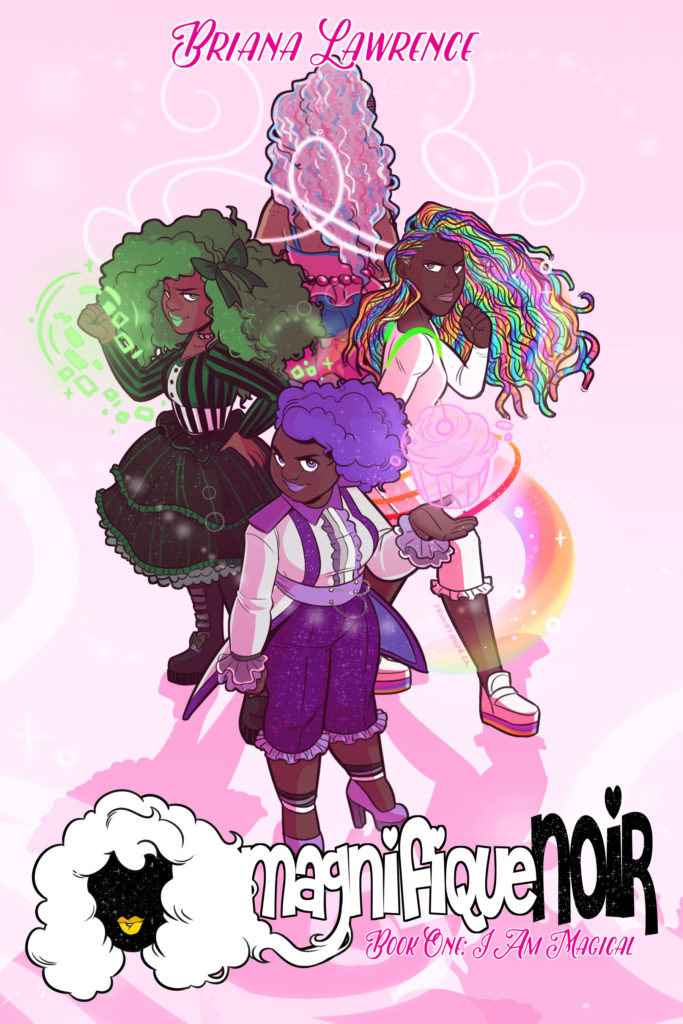 There's a city. It's like most other cities. Buildings. People. Monsters who can destroy sidewalks by vomiting acid onto the ground, and an elite group of black, queer, magical girls who work to put those monsters in their place.
See? Just like most other cities.
Bree Danvers would've compared it to a video game, maybe a cartoon or comic book, except black girls are rarely the heroines of the story. But there her heroine stood, plus sized and wonderful, rocking a dazzling amount of purple and defeating monsters with galactic sparkles. Galactic Purple, that was her name, and soon, Bree was joining her on a magical adventure full of transformations and after school battles to defend a city like most other cities.
And soon, others would join them, and each one would be magical in their own way… give or take a few bumps on the acid covered ground.
---
Inside The Book Examples
---
---
Be sure to check out your local bookstores as we work to make it more widely available. So far you can grab a copy at:
The Source Comics & Games in Falcon Heights, MN
Mayhem Comics and Games in Ames, IA
ALSO! The book has been spotted at the following libraries:
Mason Square Branch (Springfield City Library) in Springfield, MD
Lawrence Public Library in Lawrence, KS
---
Book Readings
Want to hear a snippet from the book? You can check out the videos below to hear Briana doing readings!
Dreamhaven Books Reading: Most recent reading! The link starts at a never-before-read passage from the book, and continues onto Jessica's reading, Briana's partner and co-author for their "Hunters" series!
Wordbrew Reading: Briana's very first reading!
---
***If you're a reviewer and are interested in reviewing any of my work, please contact me at brichibi@yahoo.com or brichibi@gmail.com***