C'est magnifique!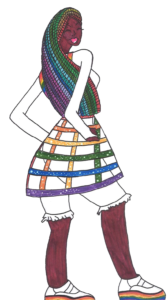 Every magical girl goes through a transformation. For the ladies of magnifiqueNOIR, their transformation awakens the true power within each of them.
Galactic Purple
Marianna transforms into the beautiful and majestic Galactic Purple. Her outfit is predominantly purple, but if you look closer, you'll notice the colors black, grey, and white to compliment the purple. There's a great confidence that she feels when transformed, leading to her rocking a pair of shorts with suspenders and high heels. As the leader of the group, she always wants things to go as planned, and tries to keep the ladies in order. Her attacks are graceful and cute, reflecting her enthusiasm for baking, but don't let the cupcakes and sprinkles fool you: Galactic Purple is definitely a force to be reckoned with.
Cosmic Green
Keeping with her gamer spirit, Bree transforms in a flurry of green pixels, because apparently, being naked during your transformation is frowned upon by certain magical girls (*cough* Marianna *cough*). With an outfit that's a mix of green, black, stripes, and bows, it's an outfit that Bree would wear everyday if she could (Marianna won't let her). Much like when Bree plays video games, Cosmic Green is always eager to go on the offensive, and wants to leave a brutal impression on her enemies.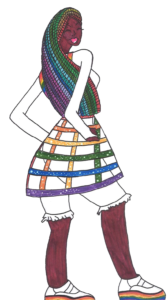 Radical Rainbow
As a kickboxer in training, Lonnie is the one on the team who could, potentially, fight without transforming. When she does transform, it's into a fairly simple outfit that still allows her to move around comfortably. A white base with tennis shoes — because she lives in them when she's training at the gym — her outfit is decorated in rainbow accents. Radical Rainbow lives up to her name and wears her colors with great pride, to the point that the rainbow shines through her hair. She remains calm and collected while in battle, saving her fury for any adversaries in the way. The minute she stops smiling is the time to panic.
Prism Pink
Prism Pink arrives on the scene in a glamorous outfit made of pinks, whites, and light blues. When transformed, she stands as her true self, and is an essential part of the team even if she isn't, officially, part of the group. She's the type to fight from a distance and to take her opponents off guard. While her attacks generally don't kill the monsters, they definitely slow them down so that the other girls can finish the job. Don't let her beauty fool you, because she can take a hit and keep on going. After all, these supernatural monsters are nothing compared to the ones who walk around in plain sight.