Want to read some of Briana's other works? Briana has several published books that range from urban fantasy, to murder mystery, geeky, to LGBT, to… well, let's just say that you have to be at least 18 to check some of it out. Whether you're looking to get lost in a new series, or want something quick and satisfying to read, Briana's got something for everyone.
The Hunters Series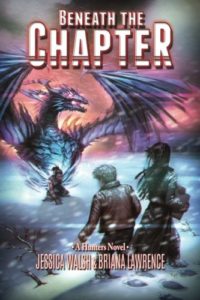 "I know of the Storyteller," it whispers into the man's ear. "I've met him. If you promise not to kill me, I'll take you to him."
The Hunters Series is an ongoing, young adult, urban fantasy series by Briana and her partner, Jessica Walsh. Together, the two women are creating a fantastical universe where the things that go bump in the night may deserve a second glance, even if we're told that it's "just the wind."
The first book is Seeking the Storyteller. In it, we're introduced to Alix Andre DeBenit and Randall Fagan. These two men are Hunters, people who are part of a hidden network of humans who track and kill the monsters lurking in our world so everyone else can pretend they don't exist. But when a living shadow mentions someone called the Storyteller, Alix hesitantly decides to learn more. They say the Storyteller lives in a massive library full of books that tell every being's life story. He can read these books, rewrite them, and change anything he wants — even if it's already happened. After his family was killed, this kind of power is exactly what Alix is looking for, he just has to decide if working with the very creatures he's supposed to kill is worth it.
The second book is Beneath the Chapter and takes place three months after Seeking the Storyteller.
Purchase Links for Seeking the Storyteller:
Amazon | Barnes and Noble | CreateSpace | Etsy (signed copy!)
Purchase Links for Beneath the Chapter:
Amazon | Barnes and Noble | CreateSpace | Etsy (signed copy!)
---
SOON TO BE RERELEASED NOVELS
Treat Me Kindly
"I only ask that you treat me kindly, then I will do the same for you."
This is Briana's very first published book! Originally published by Damnation Books (now Caliburn Press), Treat Me Kindly is an 18+ supernatural murder mystery full of wondrous creatures who are auctioned off to the highest bidder and ready to be the perfect house pets… with a few stipulations. Despite the warnings, the words of the invitation are enticing and speak of rare, exotic animals unlike anything you've ever seen.
To detective Alex Sampson, however, that invitation speaks of something else. Death.
Attendees at this prestigious animal auction are turning up dead, each murder more brutal than the last. The only clue to each crime points to a different animal, but when did birds and butterflies go from being aphrodisiacs for fairy tales to deadly mass murderers?
Double Hue
Maybe he's right. Maybe I am the cause of this. Maybe you were normal before meeting me.
Briana's second published book is an 18+ murder mystery that centers on a young, college-aged couple dealing with coming out to their parents. Original published by Eternal Press (now Caliburn Press), Gable's parents don't know about his relationship with his boyfriend, Avery, while Avery has taken the plunge with dismal results. Before Gable can even consider his next step… tragedy strikes.
When something tragic happens, you want nothing more than to close your eyes and make all of the pain go away. For Gable Peterson… it's a little more complicated than that. When detective Maurice Ashford shows up at his door with news that his boyfriend has been found dead, Gable is left devastated. Seeking some sort of comfort, Gable closes his eyes and imagines a world where none of this happened.
And when Gable wakes up, he's surprised to see that Avery is still alive.
---
Short Stories
If you're looking for a quicker read, these short stories may tickle your fancy. Each story is 18+ and feature queer men of color. They are only available electronically for the time being.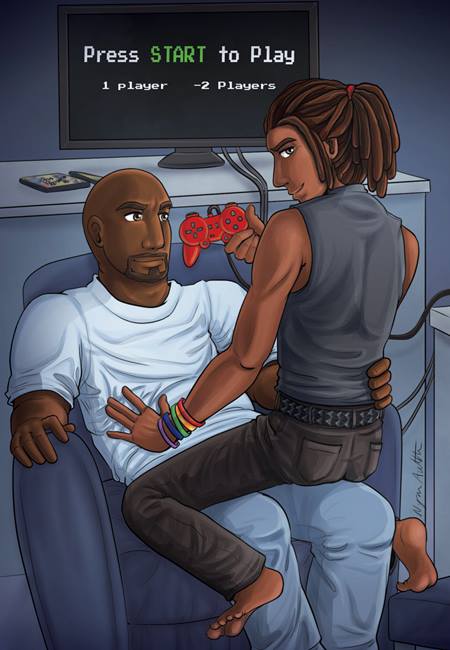 Press START to Play was originally featured in the Dreamspinner Press Make a Play Daily Dose package. The story can be purchased separate from the anthology. Many thanks to Ann Uland of Arbitrary Muse Comics for her beautiful art piece of the two main characters, Lukis and Aaron.
Lukis Singleton's once-popular sports column is fading fast, thanks to the terrible track record of the local football team. In an attempt to save the column, Lukis's editor, John, decides he needs to go in a different direction. Video games are all the rage these days, so John insists that sending Lukis to a huge video-game tournament in Los Angeles will shake up his current readers and bring in new ones. Lukis isn't thrilled about reporting on games with impossible powers or gamers who still live in Mom's basement, but then he meets a tempting flaw in the gaming stereotypes of unwashed man-children. Aaron Sanders is a gorgeous breath of fresh air at the tournament who takes Lukis's less-than-stellar view of gamers and turns it on its head, leaving Lukis to wonder if it might be worth being Aaron's player two.
Purchase Links for Press START to Play:
Amazon | Barnes and Noble | Dreamspinner Press | Kobo | All Romance
Keeping the Cookies was published by Dreamspinner just in time for the holidays. This 18+ gay romance tale centers on Ty as he prepares for the holiday season… by kicking out his cheating boyfriend and consoling himself with chocolate and cold Chinese food. Unfortunately, rent and bills force him to grab a pair of red-and-white tights and pretend to be in the holiday spirit as a mall elf. Thankfully, there's a janitor who's too handsome for the part of a mop pusher to help distract him.
Nikolas the Janitor sweeps Ty off his feet with his smile and generous spirit. Ty wishes he could fall in love as easily as a romantic comedy, but his ex still holds a piece of his heart. Ty wants to accept Nikolas as his new secret Santa, but he might be doomed to pine after his ex all Christmas long.
Purchase Links for Keeping the Cookies:
Amazon | Barnes and Noble | Dreamspinner Press | Kobo | All Romance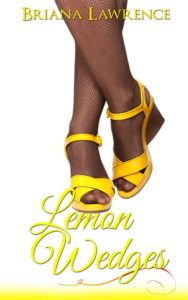 Lemon Wedges is part of a planned series called Devious Pies. The series aims to be quick, erotic reads to get you in the mood — so it's definitely 18+. There's some fetishes that we're allowed to wear out in the open. Others, we have to keep tucked away in our closets. Unbeknownst to the people around him, Kaeden is walking that fine line in stylish heels. But with the release of a new brand, "Lemon Wedges," Kaeden is finding it hard to keep his desires behind closed doors, especially when his sexy roommate, Stephen, gets a taste of his fashionable little secret.
Purchase Link for Lemon Wedges:
---
Anthologies
Why settle for one quick read when you can have an entire package of short, enticing stories? These are anthologies that my work has been featured in and are all 18+ LGBT works of fiction.
What's your favorite part of a romance? If you like the juicy bits — the moments when two or more sexy men can't wait any longer to satisfy their cravings — then this anthology is for you. These stories of strangers, casual lovers, established couples, and friends who can no longer deny the passion between them push the limits and set the pages on fire. In a scorching collection of erotic scenes ranging from funny and sweet to hardcore kinky, the guys get right to the meat of the story. Whether they're in the shower, in the locker room, at the office, on a moving train, or just connecting over the phone, they keep things steamy, sticky, and most of all, juicy.
The story Briana has featured is called Voyeur-something and features a man named Riley whose new neighbors don't seem to believe in closing the curtains when they're being intimate in front of their window.
Purchase Links for Juicy Bits:
Amazon | Barnes and Noble | Dreamspinner Press (eBook) | Dreamspinner Press (physical) | Kobo | All Romance
A collection of letters and artwork from several different creators that center around growing up fat. Briana's letter goes into how she grew up being "different," and encouraging her younger self that those differences are what's going to make her great as an adult.
Purchase Link for Dear Fatty:
---
Other Novels
These are works with other authors, ones we collaborate with on other projects and/or ones who have hired us to take their books to various shows until they're able to travel to different events.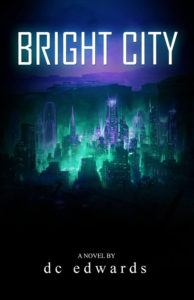 In dc edwards' debut novel, Abigail Drexler is set to inherit the Drexton Kingdom. But when she's expelled for treason and watches helplessly as her best friend is murdered, she finds herself abandoned to The Outlands. Captured by an Outlander clan leader, Abigail's journey through the post-apocalyptic landscape of a world ravaged by plagues and devastating climate changes, she becomes determined to find her way back home and avenge the murder of her best friend.
Kidnapped by a fiery redhead, her life shifts to the Bright City. The beautiful information-driven society thrives on intrigue and manipulation. Thrust into this treacherous new world, Abigail is wrapped in a conspiracy that pushes her to the edge of sanity and deeper into the corruption of the Bright City.
In this new world of information as power; information as currency, will Abigail find the clues to her exile and the keys to her freedom?
Purchase Links for Bright City: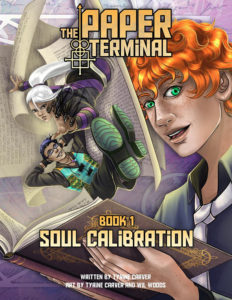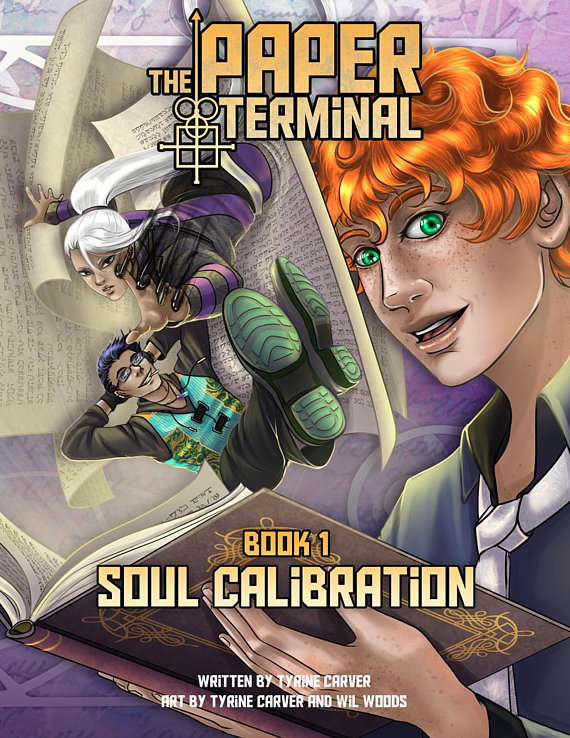 In Tyrine Carver's debut novel, Riley is rescued, then dragged, into a magical world full of Sirens, Dragons and a mysterious entity who is trying to kill her. Or maybe they're trying to kill her dead brother. Yeah, you read that right. This is an illustrated novel that blends gorgeous art with a story full of magic, wonder, danger, and… Nathan. Just… you'll see when you read it.
Purchase Links for The Paper Terminal:
---
***If you're a reviewer and are interested in reviewing any of my work, please contact me at brichibi@yahoo.com or brichibi@gmail.com***