Hello dear magical ones! Now that conventions have slowed down, it's time for some updates! But first, a message from Galactic Purple: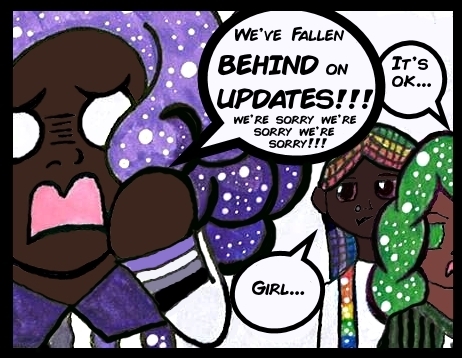 Now that that's out of the way, let's see what we've got for you!
1. The MERCHANDISE section has been updated with PRINTS! FINALLY! You can get your very own magnifiqueNOIR 11×17 poster!!! There's also one more print in the section of our very own Brichibi Cosplays dressed as Wonder Woman!!! The BOOKS section has also been updated with a fun, coloring page set of the original series, FRIENDIPALS, which you may have seen in a certain preview book about a certain group of magical girls. There's also a WOODWORK section that shows examples of the girls done via woodburning and painting. Don't forget, you can still get copies of the preview book and the first set of buttons!
2. The CONVENTION SCHEDULE has been updated once again! We have three shows scheduled for October, which will end the convention season for us. However, we're already planning for 2017. The biggest announcement is that we've been invited as guests to Haven Con out in Austin, Texas!!! Not only can you get your tickets HERE, but you can ALSO get a discount by using the word "Cosplay" when purchasing tickets.
3. Can we talk about those MAGICAL SUPPORTERS?! We try and get as many pictures as we can but sometimes, we forget. But the section has been updated with more magical ones 🙂
4. OTHER MAGICAL WORKS has been updated! Check out the WatchMojo.com section for 2016 and you'll find new videos that I've written scripts for. They are:
Top 10 Video Game Siblings
Top 5 Pokemon Go Facts
Anime Duel: Spike Spiegel VS Vash the Stampede
Sonic 06 VS Sonic Boom
We also have updates in the Twin Cities Geek section with Briana's powerful peace, "That's Not Gonna Happen to Me," in regards to dealing with racism. Last, but not least, in the Other Published Works section, you'll find Briana's newest peace for Blackasotan called, "Continue Screen," where she uses video game metaphors to address social issues.